For your main course
Please make your way to our Carvery, where our chefs will be pleased to carve your choice of freshly roasted meats.
Help yourself to fresh creamed potatoes, oven roasted potatoes, glazed vegetables and all the accompaniments on offer. A gravy boat of our huntsman home made gravy will be sent to your table, more by request, no charge! & if there's anything else you require please ask.
Vegetarian Meals
Due to rising costs in certain ingredients which we only stocked for vegetarians, which were becoming less requested, we have now made an executive decision based on this, to stop all vegetarian options and any alternatives to our Carvery as of 1st January 2013. For vegetarians we will have on offer the selection of vegetables, potatoes & Yorkshires from our Carvery on the evening and vegetarian gravy.  If extra vegetables are required please inform  us  when you book or let us know when you go on starters, as these will be cooked fresh to order. This meal will be charged at reduced rate of £15.95 which will still include your choice of starter & sweet.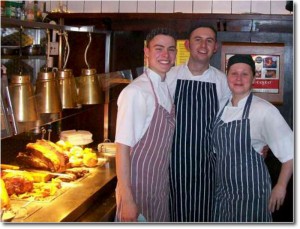 Polite notice
Our all you can eat Carvery is intended to be consumed in the restaurant and not all you can take home. Anything left on your plate will gladly be doggy bagged for you.
How ever due to the huge increase in meat costs, sadly those who deliberately come back down and take more meat to doggie bag seconds, & thirds will be charged at our discretion from £5.00 upwards.