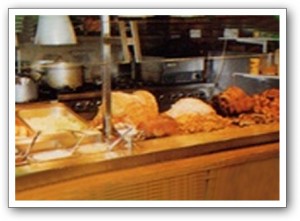 Our A La Carte menu
Thursdays, Fridays and Saturdays
Our A La Carte Menu is not available on Valentines Night, Sundays and our Christmas Season.
MENU
Home made soup of the day (s)  £4.95
                         Freshly prepared from scratch, home made meat stock & fresh ingredients, no packet mixes here.                                  Sorry but our soups are not suitable for vegetarians
Huntsman  Home made Beef Chilli   (s)   £4.95
 Huntsman home made  beef chilli , served hot from the stove with fresh tortilla chips.
Smoked Mackerel & Beetroot Salad    (g-s)  £5.25
Served with a Horseradish & crème fraiche dressing.
Melon & Cured Ham  (g)  £4.95
With a balsamic reduction dressing.
Goats Cheese & Tomato salad   (v-s-g)  £5.25
With a balsamic reduction dressing.
Oak Smoked Salmon Salad   (s-g)  £5.25
Served with  fresh mixed leafs finished with our crème fraiche and dill dressing.
Stilton topped Pork Pie  (s)  £5.50
Made with the finest pork, in a hot water pastry crust.Served with mixed leaf salad and our home made onion chutney.
King  Prawn  Cocktail Salad   (s-g)  £5.50
Atlantic king prawns, served with a classic Marie rose sauce.
Chicken liver pate   (s)  £5.50 
The Huntsman's own recipe, made with fresh chicken livers, bacon, brandy, cream & garlic,
             blended to make a smooth pate. Served with toast, side salad and onion chutney.
(v) Suitable for vegetarians  (g) gluten free  (s) no added sugar
Main Course £16.95
Please make your way to our Carvery, where our chefs will be pleased to carve your choice of freshly roasted meats. Help yourself to fresh creamed potatoes, beef dripping roasted potatoes,
glazed vegetables and all the accompaniments on offer. A gravy boat of our huntsman homemade gravy
will be sent to your table, more by request, no charge!
Vegetarian Main Course £8.95
Please make your server aware you require this option.
For your main course, make you way to our carvery and help yourself to Yorkshire puddings, vegetables and mashed potato from our carvery. We will send vegetarian roast potatoes to your table as the ones on the carvery are  cooked in  beef dripping.
We will also send you one of our vegetarian gravies.
Now for Desserts From  £4.95
When we clear your table from main course we will leave our "sweets of the day" and coffee menu
for you to look through and make your selection if you wish.
All our sweets can be served with whipped cream, soft whipped vanilla ice cream or even both!